Who doesn't love a weekend pancake session with the family? But with so many great recipes out there, it's hard to just stick to the weekend…!
Oat and Apple 
With protein packed quinoa, oats and apple, these little sweet treats offer a delicious and nutritious (not to mention filling) snack or meal. Accompany with berries and some full fat yogurt for a family pleasing weekend breakfast.
Buckwheat 
Many people wrongly assume buckwheat is a grain – it's actually a pseudo-cereal super seed (try saying that fast!) and is completely gluten free. These pancakes are really filling and contain only 5 or 6 ingredients depending on your sweetener preference.

Vegan
Pancakes without eggs and milk? Yes, it is possible! And Delicious! Of course, you don't have to be vegan to enjoy these light and fluffy little rounds of yumminess and it's always nice to try something different.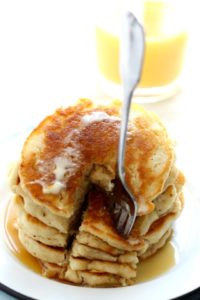 Chocolate Brownie Shakeology 
Why not use your Shakeology powder and whip up these protein packed pancakes this weekend? They are delicious and gluten free too.

Pumpkin, Cheese and Rosemary Savoury Pancakes
Who said pancakes have to be sweet? These delicious savoury pancakes are a great brunch or even dinnertime snack. They're also a nice alternative for those who want to enjoy pancakes but don't have such a sweet tooth. With Halloween and Thanksgiving just around the corner, the addition of pumpkin is a nice touch.

What other tasty pancake recipes are your favorites?